Co-founder, Quiet Storm Music
Darrell Bell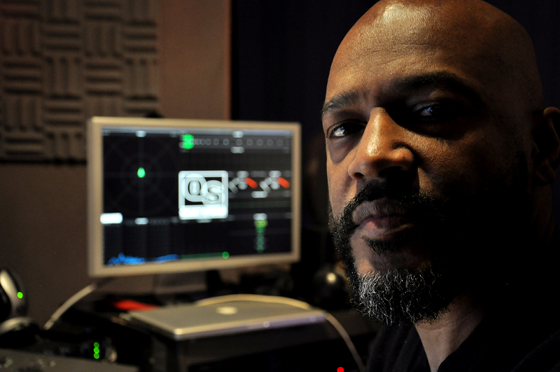 QS Sound Labs delivers flawless masters with Sonoris DDP Creator.
A division of Quiet Storm Music, QS Sound Lab is a digital production suite and mastering facility based in The Netherlands. Postproduction and mastering are at the heart of the business, and we specialize in cleaning up and restoring older recordings. QS Sound Labs is renowned in Europe for remastering entire catalogs of music from many of the world's legendary artists. (For example, we remastered Dutch band Golden Earring's collection of nearly 30 albums from the original tapes.) Our clients include major record labels such as Universal and artists that are too numerous to mention. If you name any major band in the world from the past 60 years, it's likely that band's music has come through the QS Sound Lab workflow.
The meteoric rise of streaming media revitalized the industry and created renewed interest in music that for years has just been sitting on tapes in vaults around the world. Now, that music is finding its way from those dark spaces to the World Wide Web, and as mastering experts, we're helping to make it happen.
Mastering is both the last stage of production and the first stage of manufacturing or digital distribution. As such, QS Sound Labs is responsible for creating the final master that goes to the factory, where it will be used to print thousands or even tens of thousands of CDs. We're responsible for everything, from the sound quality of every track, to the accuracy of the barcodes, to the order of the songs. In other words, we're the last hand in the creative process, so we can't afford any mistakes. If we send a master that contains errors, those errors get duplicated throughout the manufacturing and distribution process and can be very expensive, if not impossible, to rectify.
Today, instead of hard-copy masters on CD, most factories want a digital master in the form of a DDP file transferred into the cloud. Given that QS Sound Labs is the last stop before the factory, our clients are understandably demanding, and the stakes are high, so we need a reliable tool that will help us verify quality and deliver flawless DDP master files without fail.
That tool is Sonoris' DDP Creator.
How We Use DDP Creator in the QS Sound Labs Workflow
At the heart of QS Sound Labs' studio is a professional digital audio suite with a wide array of workstations and digital tools. Major systems include Dynaudio acoustics, Meyer Sound main monitoring, Benchmark A/D/A converters, various outboard compression and equalizers, and an extensive range of the top software plugins. Over the past four years, DDP Creator has become another indispensable part of our workflow. Every production that goes through QS Sound Labs goes through DDP Creator.
After mastering a project on the digital audio workstation, we export it either as a DDP file directly from the software or as an image of the complete set of CD files, which in turn gets imported into DDP Creator. Once everything is imported, we rely on DDP Creator for final quality control. We use it to check technical factors such as loudness levels, administrative concerns such as spelling, and everything in between. If all is well, then we print a new DDP file from DDP Creator, which becomes the final DDP master that goes to the manufacturer.
In our workflow, we also use DDP Creator to burn a CD of the final DDP file, which serves as a physical DDP master and a physical backup of the entire project. We also export every possible format from the DDP master file — WAV, MP3, and MP4 — for our archives and as a listening reference for clients.
While DDP Creator is a must-have tool for preparing the final master file, it's also handy for quality assurance during other stages of production. For example, I often use DDP Creator for double-checking a premix before sending it to a client for review. I just run the mix through DDP Creator, ensure the balance and everything else checks out, and then shoot it out the door.
The Big Benefit: Time
Whether we're creating a final master or simply previewing our work earlier in the process, DDP Creator is a time-saver. One thing that's especially useful is its editing functionality.
It used to be that correcting a spelling error or making a simple track change meant rerendering the entire master. Doing that a couple times a day could result in hours of unproductive work. But with DDP Creator, we can make minor changes within the software without having to rerender. We simply open the file in DDP Creator, make the edits, update, and reprint. What used to take 90 minutes now takes 10 or 15. Given the amount of work that comes through the QS Sound Labs studio, DDP Creator has saved us countless hours on updates and changes alone.
Why I Chose DDP Creator
I tried several DDP solutions and chose DDP Creator because I loved the workflow and the ease of use. In my testing, I found that many software companies went overboard with their GUIs, but DDP Creator's interface was refreshingly clean and simple. When I'm mastering, I don't want to see all the bells and whistles. I just want to see the numbers and a clear overview of what I'm hearing. Especially in the final mastering stage of the workflow, I can't afford to be distracted. For me, it's all about functionality, and DDP Creator has all the functions I need to get the job done. It's very accurate, it sounds good, and it works as advertised. So, choosing DDP Creator was a no-brainer.
I truly believe in the software and would recommend it to anybody who's looking for a DDP mastering and quality-checking solution.