The SoundLAB @ Disc Makers
Brian Lipski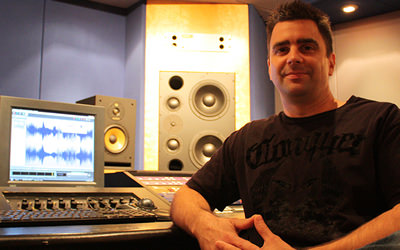 Advanced software applications speed delivery of high-quality projects for world's largest independent music mastering company.
Disc Makers has been in the business of helping independent recording artists realize their vision for more than 60 years. From its early days pressing vinyl records, Disc Makers has seen the business evolve through every medium from vinyl to 8-track and cassette tape, and then on to current digital audio formats. Today, Disc Makers is the world's largest manufacturer of CDs, DVDs, and Blu-ray discs for independent musicians, filmmakers, and businesses.

The Disc Makers SoundLAB is where the audio mastering magic happens. With more than 120 years of collective music mastering experience, our team of professional audio engineers offers state-of-the-art mastering services for smaller and independent clients at a quality level that's comparable to the major labels. And we do it at a price that's affordable for just about any musician – thanks to tools such as the Disk Description Protocol (DDP) software family from Sonoris.
DDP Player is Sonoris' cross-platform application that imports DDP 2.00 images and cue sheet files for playback or for creating RedBook-compatible audio CDs. We came across DDP Player when looking for a solution to deliver online audio proofs to our clients. In this past, this was a manual process that required us to burn and and overnight a CD, causing a delay of at least a day and incurring shipping charges that we would have to pass on to clients. Now, with DDP Player, we can generate an audio file of the proof and upload it to the new online service, where clients can log on and play it back. In a matter of minutes, they can listen to the proof and give us feedback, or approve the track for release to manufacturing.
With the success of DDP Player for the online proof application, we engaged Sonoris founder Pieter Stenekes to modify DDP Creator, a stand-alone, cross-platform DDP authoring tool that we use extensively in-house to create our own masters. In its native form, DDP Creator is a very robust system with high-end capabilities designed for audio engineers. We asked Pieter to strip out some of its more advanced features to create a custom application, our Master Uploader App, that musician clients use to upload their initial audio files to us for mastering, rather than having to ship the content on physical media.
In short, the Master Uploader App brings valuable time savings and efficiencies to the submission process, enabling clients to rip the tracks from a physical disk and into the software. From there, the app creates an electronic image file and establishes an FTP connection to our server for uploading the file, with built-in error checking to ensure that no errors are introduced during the transfer. Pop-up messages guide the client through the process, and he or she gets an instant confirmation that the file has been uploaded successfully. On our side, we're able to get to work on the content immediately with the assurance that it arrived in the exact form in which the client intended it.
The Master Uploader App is now tremendously popular; in fact, it has been so successful that we promote it as a key differentiator and benefit of the overall Disc Makers service offering. In just a few years, the app has taken us from virtually no uploaded content to our current workflows, in which 70 to 80 percent of all client content comes into our plant through the app. Considering that we work on about 40,000 projects a year, that's a lot of content.
A common thread runs through our use of the Sonoris tools – ease and convenience for our clients, which in turn means better service and faster turnaround on our part. Our clients love the ability to deliver content to us at any time of the day or night, and also the ability to review and sign off on electronic proofs in a matter of minutes. We're able to speed delivery of final products with less client hand-holding and greater efficiency. Plus, both DDP tools are not only very quick and easy to use but extremely reliable, which gives us the assurance we need to produce the highest-quality output. All of this adds up to competitive advantage and increased sales, because we can offer a service that's easier and more convenient than any other offering on the market.